Menix was founded in 2008, at the impetus of Mr Patrick Rondot, following the merger between SERF and Dedienne Santé.

A high-performing, 100% French holding company
The Menix Group is a French holding company that brings together the leading brands in orthopedics, dental implants and craniomaxillofacial surgery. In less than 10 years, the Menix Group has increased its sales turnover tenfold. In 2018, the holding company had 350 employees, and that number continues to grow organically, increasing by double digits each year.
The group is a leader in the European orthopedics market (65% of sales turnover) and dental implants. With the exception of Turenne Capital and the current management team, all legacy shareholders have exited, leaving, as of 2017, FIVE ARROWS and Keensight Capital.
The Menix Group is directed by Patrick Rondot, Jean-Luc Aurelle and Christophe Marrone.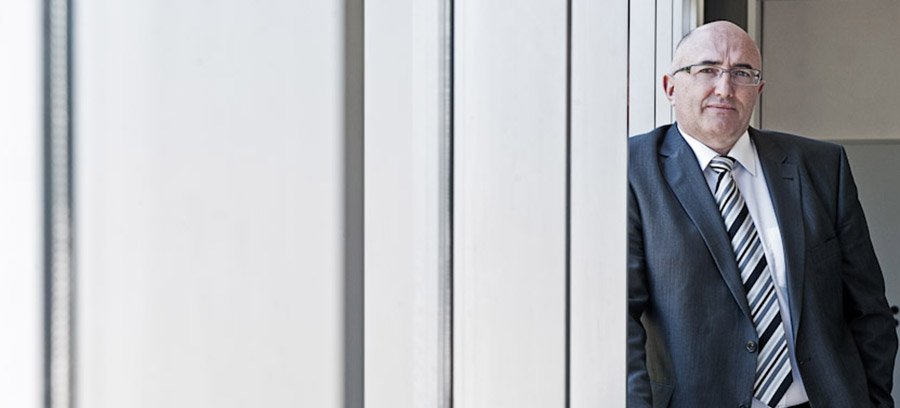 Patrick Rondot, Menix Group President
Modernization as a growth driver
The Menix Group's strategy aims to dynamically address the market at all times. These approaches are different by design, but they are based on one key factor: innovation. The Menix Group has historically been known in the orthopedics market as the "inventor by proxy" of the dual mobility cup. With its recent purchase of Oneortho Medical, a startup specializing in digital solutions for the manufacturing of 3D implants, the Menix Group has positioned itself at the cutting edge, and has once again proven its ability to invent new solutions that meet real-world expectations.
The group and its subsidiaries have manufactured all of their products in France for over 40 years.

Inventor of the dual mobility cup
In 2009, the Menix Group solidified its position in the orthopedic implants market by purchasing SERF, the Société d'Etude, de Recherche et de Fabrication.
SERF was founded in 1973 in Décines, France (Lyon metro area) by the Rambert family. SERF's approach combines scientific data and industrial processes that are customized for the orthopedics market. In cooperation with Professor Gilles Bousquet from the Saint-Etienne Hospital, SERF pioneered the concept of dual mobility, thus garnering international acclaim in the hip joint replacement market. The dual mobility hip joint entered the public domain in 1996, and has since been copied by countless manufacturers.
More recently, SERF expanded its line of joint implants to include the hand and foot, which are marketed through a dedicated entity called Serf Extremity.

A recognized leader in the dental market
In 2012, the Menix Group consolidated its dental product lines by creating Global D, formerly known as Tekka. Global D specializes in designing, manufacturing and marketing high-quality medical products for maxillofacial, pre-implant and orthodontic surgeries and for the dental implant market.
Global D offers innovative treatments that aim to improve patients' quality of life and the predictability of surgical procedures. The company has a research and development lab that works closely with medical professionals to develop new types of implants and completely new materials. An inventory of ultra-modern machines enables more than 200,000 implants to be produced each year.
Distributors are served by a team assigned solely to them, with another team assigned to users outside France. This allows for personalized service, even on the other side of the world.

Investing in new manufacturing techniques
On 23 July 2015, the Menix Group took control of Oneortho Medical.
Founded in December, 2013, Oneortho is a startup based Saint-Etienne, France. Recently, Oneortho was one of 110 winners of the worldwide Innovation 2030 competition launched by the French government to reward forward-looking companies and support creativity, innovation and risk-taking.
Oneortho's produces customized joint implants and single-use surgical instruments using rapid manufacturing techniques such as 3D printing. Implants are sized to match bone models, to ensure that the implant fits the patient's anatomy; the resulting joint implants are one-of-a-kind, personalized devices, as are the instruments associated with them. The patient's bones are reconstructed in 3D, using 2D images from X-rays, MRIs, CT scans or a combination of these.
Dedienne Santé
A french brand's roots
Policies
Exports, R&D, HR…
Partners
Sharing our experiences
A